Multi-purpose garden tool that is a shovel, saw, axe, mattock, hand-pick and pry-bar, all-in-one
Strong, sturdy, and durable with a high-quality carbon steel head that can handle the hardest ground
Inverted 'Y' shape with strong kick plates on each shoulder, helps you dig deeper
Serrated saw teeth along both edges for efficient cutting
Ergonomic and extra-wide handle with rubber grip – more gripping space for increased leverage and comfort
Narrow tip & sharp edge – perfect for the deep potting of plants
Use as an axe to strip branches, clear scrubs and built-in roots
Uproot the most stubborn vegetation
Saw through even the thickest branches
Great for digging, ground-clearing, trenching, edging, uprooting, and removing plants, weeds, and shrubbery
SAVE BIG on garden tools - one tool to tackle so many projects!
SAVE TIME - no need to switch tools during a project
Inverted 'Y'-shaped design: has serrated teeth along both lower edges and a carbon steel head, letting you slice through tough terrain, break up hard, compacted earth and even cut through clay, deeper than with many standard shovels and spades.
Sharp, serrated saw edges: easily saw through roots while you're digging or remove lower branches and twigs from tree trunks.
Sturdy shaft and ergonomic handle: combine to make a shovel so strong it can be used as a pry bar to uproot stubborn tree stumps and plants or hack through buried obstacles with less stress on your hands and wrists.
Narrow tip: perfect for the deep potting of plants. Strong kick plates on each shoulder to really let you bury that cutting tip deep into any substrate. Use as an axe to strip branches, clear scrubs and built-in roots.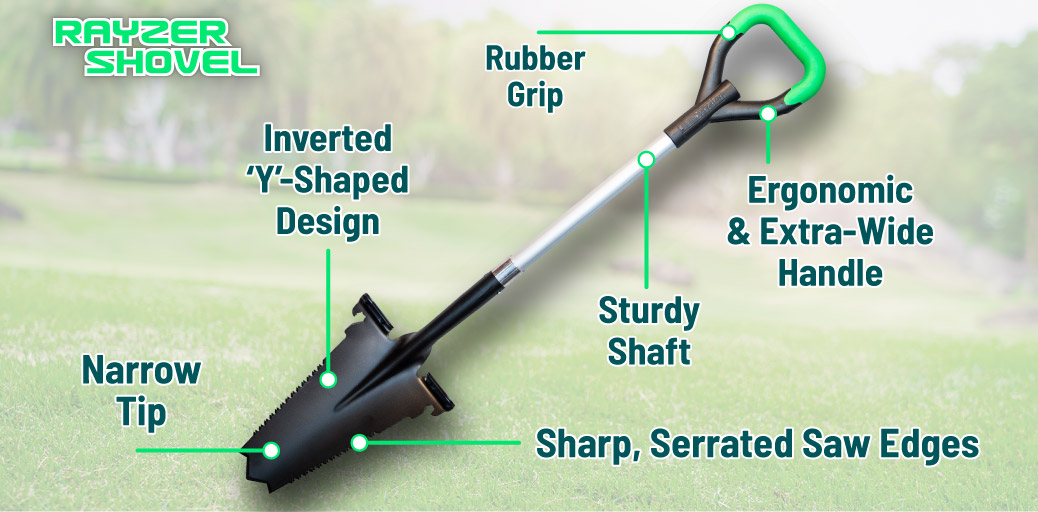 Q: How big is Rayzer Shovel and how much does it weigh?

Rayzer Shovel measures 114cm in length, including the shovel blade, and is lightweight at 2.6kg so it's easy to use.
Q: What makes Rayzer Shovel strong?

Constructed from high-quality carbon steel, Rayzer Shovel is ultra-durable and strong.
Q: Where should I store Rayzer Shovel?

Rayzer Shovel should be kept in a dry environment, preferably in a garden shed or similar storage area, to mantain good condition.